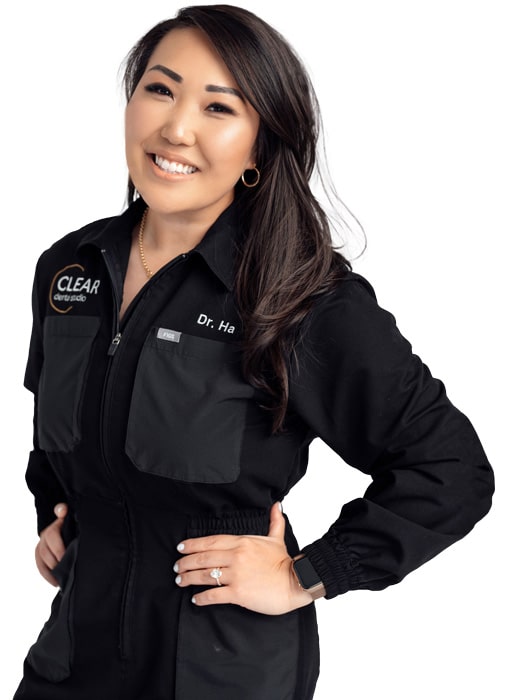 Hi, I'm Dr. Martha Ha!
I was born in Chicago, but raised in Mexico, California and the Midwest. I studied at the University of Iowa (Go Hawkeyes) for my bachelors degree and completed my doctor of dental surgery degree at the University of Southern California.
Dentistry is a strong passion of mine as it is fulfilling that I can share my knowledge with all my patients. I've completed and continue to devote my career to extensive training in all aspects of dentistry including sedation, cosmetics, Invisalign, and surgery, as dentistry is always evolving! My experience allows me to provide my patients a comprehensive approach to dentistry which includes individualization based on needs.
Outside of the office, I'm passionate about living an active lifestyle, which is what drew me to Colorado. I love hiking, biking, traveling to new places and experiencing the culture the world has to offer.
To 'fuel' all that outdoor activity, I try to eat anything delicious that I can get my hands on! I love trying new restaurants and consider myself an avid foodie and a pepperoni pizza connoisseur. Suggestions on places to hike or eat are wholeheartedly welcome, if not actively encouraged!
I enjoy spending time with family, friends and especially my french bulldogs Kanga and Roo. I'm also a firm believer in being an engaged and committed community member, be it locally or globally. Therefore, I volunteer my time to Dental Care for Children for which I fly to remote and underserved regions of Mexico and Haiti to fix the smiles of those who need it most.
My practice philosophy is to get to know my patients and educate them on all aspects of dental care, all while ensuring their comfort and keeping an open ear and mind.