What Is Orthodontics?
Orthodontics is a branch of dentistry that corrects the alignment of teeth by focusing on the relation of the upper and lower arches of the jaw. Crooked teeth that are improperly positioned together will benefit from proper alignment not only for cosmetic purposes, but also for function and bite, as well as gum health. Achieving a straight and beautiful smile is just an added bonus!
What Are the Different Types of Braces?
There are several different types of braces used for moving teeth.
The most common types of braces are:
Can I Get Braces From My Dentist?
Yes, you can! While the field of orthodontics is typically managed by specially trained orthodontists, dentists like Dr. Ha, can also provide orthodontic care in the form of clear aligners for their patients who only need mild to moderate adjustment. This makes orthodontic treatment with clear aligners affordable, easy and convenient.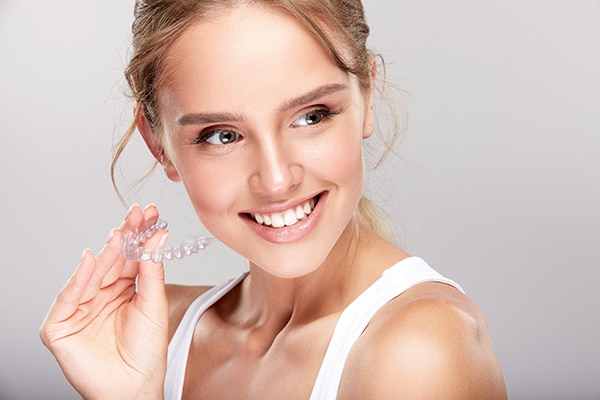 What Is Invisalign?
At Clear Dental Studio we proudly offer Invisalign as a way to straighten your teeth and improve your smile. Invisalign is a reputable and popular brand of clear aligners that provide an alternative to metal and lingual braces.
Without having to use the metal wires and brackets like traditional and lingual braces do, Invisalign effectively and conveniently improves smiles by slowly and gently moving the teeth through a series of removable, clear, plastic molds.
Most cases of crooked teeth or abnormal bites can be successfully corrected through Invisalign, however, depending on how complex your case is, traditional treatment by an orthodontist may be recommended.
Am I a Candidate for Invisalign?
Almost everyone is a candidate for Invisalign. Both adults and teens are eligible, but in order to determine your specific needs please give us a call to further assist you.
Clear aligners such as Invisalign, may be a great option for older teenagers and adults who need mild to moderate correction of the following:
While Invisalign is extremely effective at straightening teeth and correcting bites, they are not ideal for severe cases that often require more intense orthodontic intervention. Clear aligners are also only effective if they are kept in the mouth for at least 22 hours a day. So when considering clear aligners such as Invisalign you'll need to determine if you can commit to wearing them for that amount of time and resist the temptation to remove them because they can be uncomfortable at times especially when a new tray is started.
Every individual is different and we'd be happy to help determine if you are a candidate for Invisalign. Give us a call so we can further assist you.
How Does Invisalign Work? What Is the Treatment Process?
Below are the steps of Invisalign:
A thorough examination is conducted by your Invisalign trained dentist in order create a unique digital treatment plan custom to you.
A digital impression or physical impression is taken and sent off to Invisalign for the design of your custom digital treatment plan.
Once the digital treatment plan is back, Dr. Ha will discuss it with you and if all is acceptable, will approve it allowing for your custom aligners to be created. The digital treatment plan shows the exact movements of your teeth and final outcome.
When your custom aligners arrive, you are ready to begin! In some cases, small buttons will need to be placed over the teeth. These buttons or attachments are tooth colored material on top of teeth to help move the treatment along faster.
Each custom aligner will gradually shift your teeth into proper position to reach your stunning new smile!
How Long Will Treatment Take?
Every treatment is individualized to you so the number of weeks or trays will be different to each individual. On average, a full Invisalign treatment can take anywhere from 12-18 months.
How Many Hours per Day Should I Wear My Aligners? How Often Will I Need to Change My Aligners?
The aligners will need to be worn at minimum 20-22 hours a day and changed out either weekly or biweekly, depending on Dr. Ha's instructions. You should make sure you are not eating or drinking anything but water with your aligners on and that you are brushing and flossing before you put them back on. This is to prevent any entrapment of bacteria and food that can promote the development of cavities. It is okay to drink clear fluids (such as water) with your aligners on.
Follow-up Visits During Invisalign Treatment
Follow-up visits with Dr. Ha here at Clear Dental Studios are important to ensure your treatment is coming along perfectly. Examinations are crucial components to the process as is consistent tray use. Any inconsistencies and breaks in your treatment can delay getting your teeth into their desired position. These visits are also important in determining whether you are cavity free. If you do develop any cavities during treatment it would need to be addressed immediately. These appointments are usually once every four to six weeks but can depend on each individual and treating dentist.
Retainers
Retainers are a custom fabricated clear tray (similar to Invisalign trays) that keep your teeth in place after any orthodontic treatment has been rendered. It is crucial to wear retainers after Invisalign treatment and even after removal of metal braces. This is to ensure that your teeth do not shift back to their initial position.
Invisalign may also be a good option for patients who have had orthodontic treatment in their earlier years and are now noticing that their teeth are shifting as they age due to lack of retainer use.
At Clear Dental Studio we want you to enjoy your smile for the rest of your life and therefore strongly encourage a lifelong commitment to wearing your retainer. This ensures ultimate smile success, and allows you to potentially avoid revisiting orthodontic treatment.
Cosmetic & Restorative Dentistry
Schedule Your Cosmetic Dentistry Appointment with Clear Dental Studio Today!
If you live in Broomfield, CO, & surrounding areas and are in need of a dental evaluation, cleaning, assessment or any other dental services, turn to Clear Dental Studio. Dr. Martha Ha and her team of dental specialists are known for performing exceptional dental work for the residents of Broomfield and beyond and can do the same for you! Whether you need cosmetic, restorative, preventive, or surgery-oriented dental services, the choice is Clear. Call us today or book online to schedule an appointment at our Broomfield office.