What Are Composite Fillings?
A composite filling is a resin-based material commonly known as a white filling or a tooth colored filling. It is used to restore cavities in teeth and because of its color it can be used for cosmetic improvements. It is one of the many cosmetic dentistry services we offer.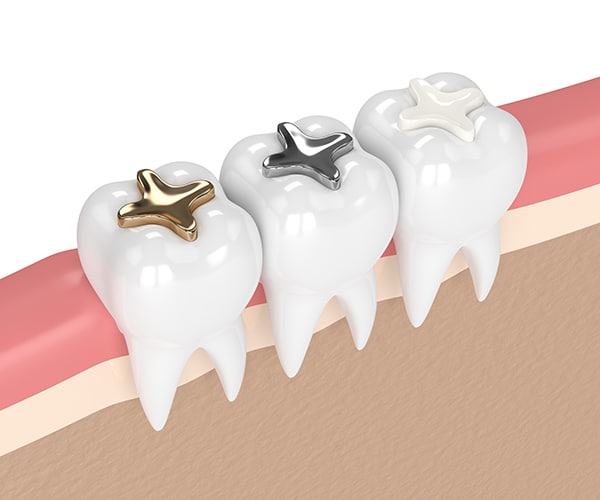 What Types of Fillings Are There? What Are the Pros and Cons of Fillings?
The five most commonly used filling types are composite, amalgam, gold, porcelain and glass ionomer.
Composite Fillings (Tooth Colored)
Amalgam Fillings (Silver)
Gold Fillings
Porcelain Fillings
Glass Ionomer Fillings
How Are Composite Fillings Placed?
A composite filling uses a technique called bonding to adhere to your natural tooth. Sometimes, if the cavity is small, no anesthetic is needed. However, in most cases, your dentist will administer anesthetic so you are comfortable during the procedure.
Steps of Placing a Composite Filling:
After a composite filling is light cured it is the hardest it will be, and once the anesthetic wears off you can go back to chewing normal and no extra precaution is needed.
Cosmetic & Restorative Dentistry
Schedule Your Cosmetic Dentistry Appointment with Clear Dental Studio Today!
If you live in Broomfield, CO, & surrounding areas and are in need of a dental evaluation, cleaning, assessment or any other dental services, turn to Clear Dental Studio. Dr. Martha Ha and her team of dental specialists are known for performing exceptional dental work for the residents of Broomfield and beyond and can do the same for you! Whether you need cosmetic, restorative, preventive, or surgery-oriented dental services, the choice is Clear. Call us today or book online to schedule an appointment at our Broomfield office.